Introduction
KFS bow top fencing is another versatile option offered by Kane Fencing.
The aesthetically pleasing dynamic of this option is what makes it so popular for use.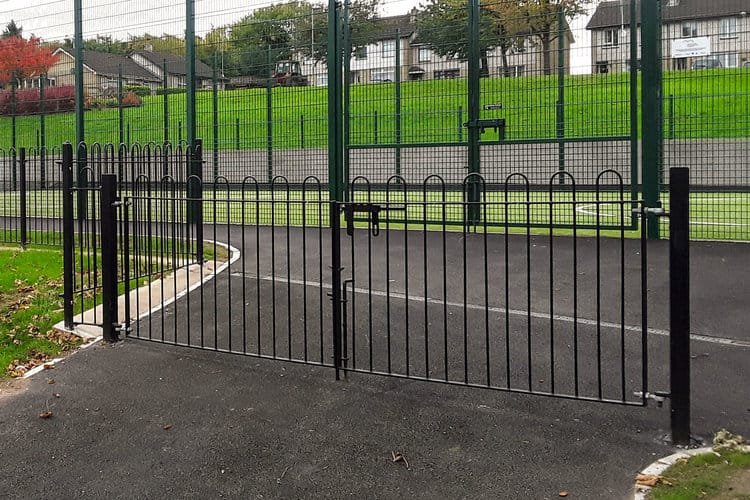 Qualities
Aspects such as protection and security aren't as prevalent with this form of fencing (however safety levels are still maintained to a high standard) with its modern layout and stylish look being its greatest feature.
Kane Fencing's entire bow top range has been manufactured through resolute craftsmanship to provide an impeccable balance of strength, weight and overall durability, while still upholding its fundamental purpose of protection and safety.
Dimensions & Specifications
KFS Bow top fencing panels are manufactured and provided in 2.75m lengths, with various heights available (as seen below) with custom heights available to order. The Bow top fence panels are accompanied by supporting posts and fastened using a tamper-resistant pin.
Bow Top Fencing Heights (m)
1.0, 1.2, 1.4, 1.5, 1.8, 2.0, 2.1, 2.4
All panels are fully galvanised with a protected powder coating to British Standard, for upkeep of high decorative class.
Our Tamper-Resistant' Pin offers a  secure alternative to using a standard pin or bolt. This prevents outside intervention from loosening or tampering.
Usage
Areas of public access i.e. car parks, gardens, play parks. For segregating children's play areas, creating divides between people and animals.
For further information on any aspect of the product call our office on 028 8775 8449.
Downloads
Get in touch with us today for a free, no obligation quote.